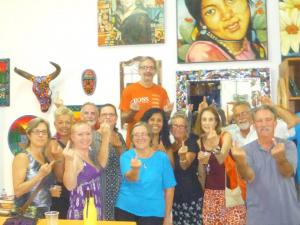 Cancer in Paradise (part 4)
(Warning: may contain swearing and TMI)

By now, I had been in Bucerias for more than a year. The magic was still there, regardless of having to go through cancer treatment. Now that chemo was finished, I was gearing up for radiation. 30 treatments over 6 weeks and it would be done in Guadalajara. The word spread that I was needing a place to stay. Once again, angels appeared. Sue and Harold, complete strangers to me, had heard the news and offered their second home in GDL to me. It was perfect! Close to centro, public transportation, parks, restaurants, groceries, laundry,and was large enough for family and friends to stay with me. We agreed on 500 pesos a week and they handed me the keys! The consult was set up and Gwen, my parents and I, hit the road for the big city. After we arrived, my dad and I hit the streets to see if we could navigate the bus system to get me to my treatments. It was challenging at first. Some buses never arrived but others did and we got it figured out. We met with the doctor to learn about all about the next step. The doctor was particularly concerned about my pastey ginger skin and how bad the radiation burns might get. In my head, I just wasn't interested in anything bad happening. I figured chemo was pretty much a breeze and radiation was going to be the same! Bad side effects were not even an option in my mind. At the end of it all, he was very surprised at how well my skin tolerated treatment!

I was all set up and ready to go. Gwen drove my parents back to Bucerias, as they had to return to Alberta in a few days. It must have been so hard for them to leave. My energy levels were increasing and I spent some time out walking and checking out my new surroundings. But now I had a lot of time on my hands. My beach was gone, my support system was 5 hours away, I was all by myself in a strange city. I brought my art supplies with me but I really had no urge to be creative. That is when some crazy shit started to happen in my head. Even though I was feeling pretty powerful about how far I had come and that I was determined to kick cancers ass….I was feeling a little sad, and ugly, and scared and generally having a pity party. Maybe it was the nasty chemicals of chemo that had been pumped through my system? The instant menopause that chemo creates? The image I was seeing in the mirror was a strange looking girl with little sprouts of ginger hair, some pretty intense scars, a blue boob and soon to be radiation burns. I had crazy thoughts of, who is ever going to love me like this? Ridiculous, I know. But it was very real for me at the time.

Another angel arrived in my life. Someone I had just recently met, that was now living in GDL, and he wanted to help. We had meals together, listened to music, went to parks. He took me to amazing places in the city that had great art. It was amazing. I saw incredible architecture, old murals in fantastic old buildings, and I was in awe of the amazing street art! He kept me busy, he made me laugh, he introduced me to other really cool artists that he knew. He also showed me that I was safe, loved, cherished, beautiful, sexy, desirable and there was no reason for me to ever deprive myself of all the joy, passion, pleasure and love that I could ever want in this life. In his eyes, he didn't see the goofy bald head, the purple scars or the burns. He just saw me. He helped me see that too. It was like the warrior goddess within me was finally given permission to emerge and be the person I had always wanted to be. I will never, ever forget what he did for me and will be eternally grateful for all that he brought to my life.

Every weekday morning, I had treatments. On the weekends I would usually hop on a bus to Bucerias. I was getting homesick! I was tired of the big city. Of being stared at, of the crowds, and of the flashers and molesters on the bus. There was a few times that my treatment was cancelled, which was delaying the process. The plan was for me to be home by Christmas. One day the doctor told me, that I may not be done by then, because of those cancelled treatments! I had a complete melt down in the middle of the clinic! Being stuck in GDL over Christmas was not an option for me. It's amazing how fast things can move along when they have a sobbing bald woman in their reception area! I was counting down the days and they finally got me home for Christmas. My last treatment was the morning of Christmas Eve! Happiest day ever!

I have the most amazing people in my life. During those 6 weeks, people looked after my house, fed my gangster street cat, and some even raised money to help me pay for treatment. They auctioned my art, shaved their head, waxed their chests, and had garage sales! They did it with love and behind my back, because they all knew I would have never agreed to it otherwise! I was using facebook as a journal, so all my family and friends could keep an eye on my progress. One day I posted a big "FUCK YOU" to cancer. After that I began to receive all sorts of pictures on my facebook page from people all over the place. Pictures of them with their families and friends, at their Christmas dinner tables, all giving the finger to cancer! It was brilliant and beautiful and filled my heart! When I finally went to pay Sue and Harold the rent on their house. They reneged on our deal! The deal was 500 pesos a week. They would only take 500 pesos for the entire six weeks!

People say that everything happens for a reason. That there is a lesson in everything that happens to us. What was my lesson? I learned that humans are generally good and kind. That it's ok for me to ask for and receive help. That it doesn't make me weak. That it's actually a gift for the people that are offering to help. I learned that I am beautiful and desirable in whatever physical state I am in. That I deserve to have joy, passion, pleasure and love in my life. I learned that life is too precious to be angry or to hold grudges. The biggest thing I learned, was that dreaming a dream and letting nothing get in the way of that, is the best thing that I have ever done! No regrets, ever!

And then I started to paint……….

Tracy Bonin
www.tracybonin.com
Canadian artist, living the dream in Mexico.